Tacoma Wedding Venue Spotlight | Foss Waterway Seaport
We are so proud of Mandy Brown, our newest Associate Planner and South-Sound/Tacoma Wedding Planning Specialist. She recently partnered with MoveToTacoma.com to spotlight 5 of Tacoma's most stunning wedding venues. We'll be featuring 1 venue every week with photos and the beautiful inspiration boards Mandy has put together for each.
. . .
A Note from Mandy
Tacoma has a lot to offer when it comes to weddings and events. Reasonable prices, a wonderful city, water and mountain views and of course the major advantage of our smaller town… PARKING! I have been visiting venues in Tacoma and the South Sound over the past few months and I have to say this Planner is pretty impressed. So when Marguerite from Move To Tacoma asked me if I would be willing to talk about some wedding and event venues in Tacoma, I of course wanted to take the opportunity to brag about how awesome I think we are! The best part about the 5 selected venues is that they work well for any kind of event… wedding, holiday party, fundraiser, anniversary party, you name it!
Up first, Foss Waterway Seaport
705 Dock Street, Tacoma, WA, 98402
http://www.fosswaterwayseaport.org/rentals
Neighborhood: Downtown Tacoma
What is especially unique about this venue?
Mandy: This space is incredible! Big enough to hold over 300 guests but doesn't feel too big if your event has 150. The museum has been doing historic renovations on the space for a few years and has done a wonderful job at maintaining the older feel while making essential updates. There is an industrial feel with rustic touches from the trusses. With the open space and glass windows for days, it really lends itself to go in many directions for décor as well as functionality.
The wall of windows when you first enter the space is beautiful all on its own and as the sun sets, it lets in amazing light into the space. You are directly on the waterway and on a clear day can see Mount Rainier in all her glory. A perk of being on the water is the option of a boat or seaplane pulling up to their dock. And, if you are able to get the permit, a full fireworks show!
What does this venue already feature, and what would someone need to bring in (outside of décor and personal items)?
Mandy: Included in the venue fee are 21-60" round tables, 9-6' banquet tables, 9-cocktail tables, 168 blue conference style chairs and a heritage boat as a "gift table". You will need to rent linens and depending on the size of your event, you may need to rent additional tables and chairs. You are welcome to bring in a licensed caterer of your choosing and can rent any additional items.
What design ideas do you have for this venue?
Mandy: I love a mix of an industrial space with soft, romantic décor. For this space, I created a the Rough Luxe look, using lots of greenery with garlands and bringing in live trees, wood tone accents, add in some soft lounge seating near the bar and lighting… lots and lots of lighting!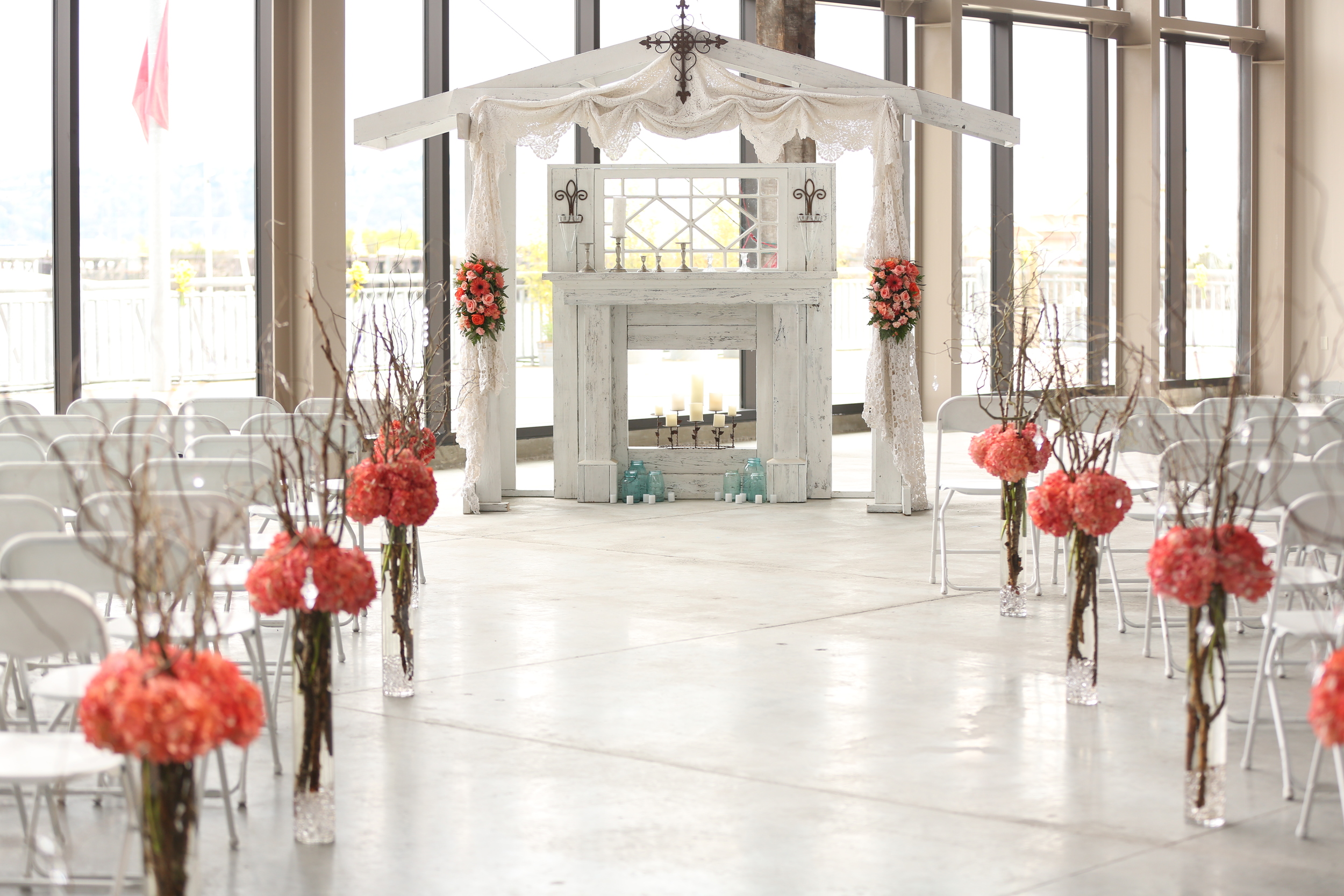 Looking for help with your South Sound wedding day? Contact New Creations Weddings today to setup your complimentary initial consultation!
Happy Planning!
~Rebecca